ManageMyMatch has a rich set of tools to create all sorts of tournaments, leagues and events. Whatever the type of event, the tools are the same and the process is the same. In this article we'll refer to these as "events".
Basic structure
Typically, a club will hold the same event on a regular basis. For example there might be monthly leagues or an annual championship. The details for a recurring event remain the same, so ManageMyMatch has a concept called a "Series" which holds those details. Setting up a series is generally a one-off task.
A series is defined at the level of an "Affiliate". An affiliate represents an organisation or entity to which one or more clubs may belong. Every club has its own affiliate but it may also belong to other affiliates, perhaps one representing a group of local clubs, so that they may all participate in an inter-club event.
A specific event is created against a series so that it can inherit all the details that define what the event is from its series. The only pertinent extra features of an event is its start and end dates.
An event is what members can sign up to and participate in. Each event can have none, one or more draws within it. For example an April leagues event may have a dozen draws - one for each league. For tournament events there is typically only one draw. An event does not have to have a draw at all - it could even simply be a social event.
The schematic below illustrates all this: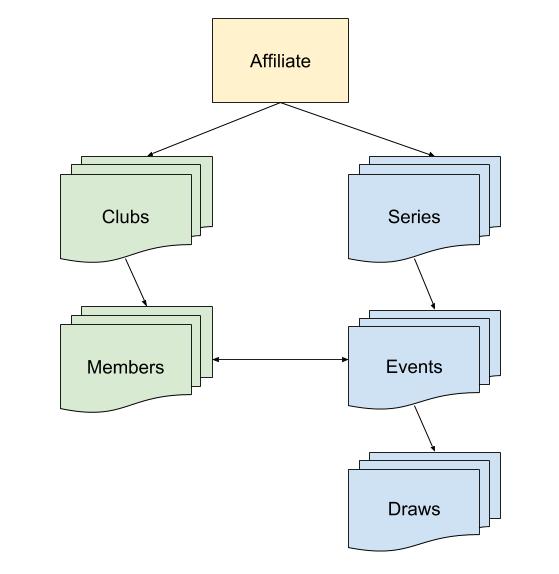 For each of these boxes there is a "Manage XXX" page in ManageMyMatch that allows certain authorised individuals to create or manipulate each of these entities.
Permissions & roles
Affiliates and Clubs are set up by ManageMyMatch support staff on request from clubs and other organisations. One or more administrators can be set against an affiliate which allows them to create a series against that affiliate. In the case where the affiliate is representing an inter-club organisation this may not be anyone particularly attached to any one club. But since every club has a "captive" affiliate (i.e. one which is dedicated to them), then it makes sense to appoint one or two people in the club to take responsibility in defining the various events (as reflected in the series) that the club has to offer.
Each series itself may also have one or more administrators. These people can update the details of the series as well as create new events. When a series is first created the affiliate administrator is set as the series administrator. That administrator can nominate other administrators.
Typically, there may be a few people in the club who organise events of one sort or another and these people should be set as administrators as relevant for each series. Whenever a specific event becomes due then the series administrator would go about creating the event.
Managing a specific event may involve quite a few things like advertising it, chasing people up, deciding when it will run, preparing the draws. Generally, organising the event. The series administrator is typically the individual event organiser as well and is set as such in the event. Events have organisers and other people can be added as organisers so that they can participate in certain tasks, for example, to review and seed tournament joiners. It may be that the event administrator delegates all the specific organisational aspects of an event in which case they should add the appropriate person as an organiser for the event they created.
Clubs also have designated officials each of whom has access to change many aspects of the set-up of the club. They also have access to the full membership list and can take certain actions regarding each member.
The above is summarised with the augmented diagram below: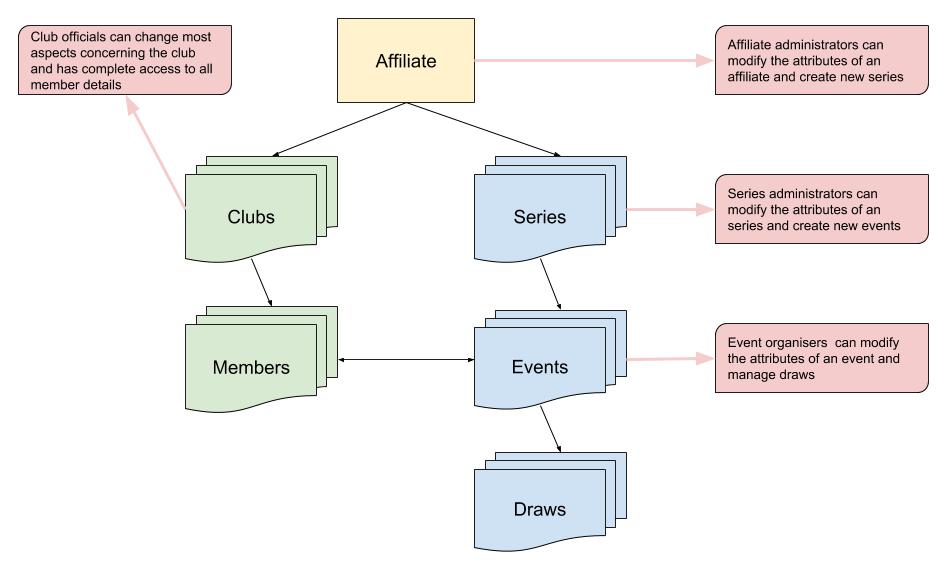 Key features of a series
Setting up a series involves quite a few details to be set up as presented in Manage Series. But here are the key features:
Name, description and an optional in-depth explanation
Some general features in terms of the frequency of events, when they happen and what kind of draws are involved
An optional fee for joining the event that would be charged to joiners upon event completion
Eligibility options (who can join, include age and sex restrictions)
Further details of how the draws are to be prepared (if the event involves draws)
How matches are played and scored. This section describes the format of a match and can cover most sports particularly tennis and squash.
Event work flow
An event goes through a series of states from the time it is created to the time it has finished.