The following schematic overviews how funds travel through the MMM infrastructure: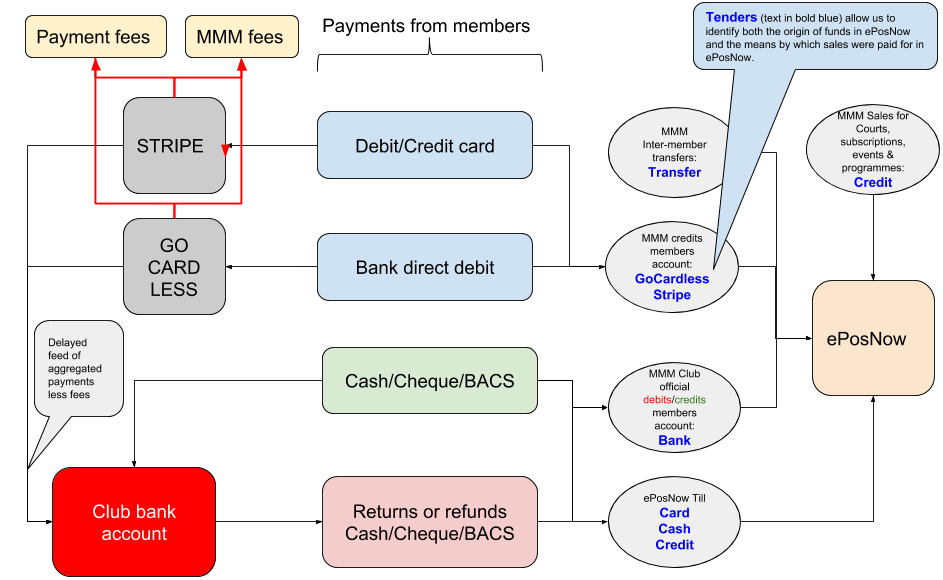 Reconciliation
The question "What did we sell in order to reconcile/justify the credits we see in our bank account over a certain period of time?" has to be rephrased because the credits are a) batched up by the payment providers (Stripe/GoCardless) b) typically consist of member balance top-ups (i.e. not sales) and c) are delayed by the payment providers. ePosNow reporting easily answers the question "What sales has the club made over a certain period of time?". In order to be satisfied that those sales have correctly ended up as cash in the bank we need to prove a reconciliation trail from ePosNow to the bank account and, for the payment providers, this can be broken down into two parts: a) Prove credits in ePosNow match the transactions recorded in the payment providers dashboards and b) Prove the transactions in the payment providers dashboard are being paid and that the payments recorded match the bank statement. This article provides further details on this.
Tenders
Tenders are a concept in ePosNow that allow the identification of the source of funds used to pay for things or to credit member balances. ePosNow comes with 3 standard tenders:
Cash - This is used when paying for goods with cash or when cash is used to credit a members account. It is exclusively for use by the ePosNow till.
Card - This again is only used by the ePosNow till and represents the fact that the club has accepted payment with a card. This is not the same as card payments via MMM. This assumes the club has its own independent payments supplier to facilitate card payments at the bar for example.
Credit - Used by both the ePosNow till and by MMM to record sales paid out of a members credit balance.
MMM adds its own tenders into ePosNow to differentiate financial activity executed via MMM as follows:
Transfer - all member to member transfers are recorded against this tender. The total of all transactions with the Transfer tender should therefore always be zero.
Bank - used for when MMM is used by a club official to debit or credit a members balance. It allows us to see what portion of members balances can be attributed to payments/withdrawals that are made manually outside of the system. For example, if a member were to give a club official £50 in cash which was deposited into the bank (not the ePosNow till) then the credit that the club official would add to their balance would be against the Bank tender.
Stripe - used for when a member credits their account with a debit/credit card via Stripe
GoCardless - used for when a member credits their account through a direct debit mandate set up via GoCardless